Silversea Cruises: More All-Inclusive
Silversea Cruises: More All-Inclusive
Silversea Cruises is set to become more all-inclusive than ever, with the upcoming launch of its new 2022/2023 itineraries.
Carol and I sailed with Silversea in 2014. And you can find Silversea on our newly published Favorite Ocean Cruise Lines.
They were our first introduction to luxury small-ship cruising. In fact, it was Silversea that convinced us that we needn't ever sail on a big cruise ship ever again. We were hooked on small-ship cruising.
We enjoyed the inclusive approach to Silversea's sailings. We are now excited to see that they are becoming more all-inclusive than ever by adding a complimentary shore excursion in every port and included roundtrip air.
All of this will commence on Silversea's new 2022 and 2023 itineraries launching next month.
For now, let's take a peek at their press release:
Included Shore Excursions and Roundtrip Air
"For the first time in Silversea's history, travelers will enjoy at least one complimentary shore excursion, from a range of experiences in every port of call, included with all voyages in the new itinerary collection—across the line's entire fleet of 10 ultra-luxury ships. Enhancing Silversea's all-inclusive offering further still—which is already among the most comprehensive at sea—all cruise fares will include roundtrip air and transfers, providing unprecedented value and convenience for guests.
"We are enhancing our already comprehensive all-inclusive offering for the convenience of our guests while leveraging on our destination leadership to take travelers deeper into over 900 of the world's most amazing destinations on included shore excursions," says Roberto Martinoli, Silversea's President and CEO. "Our expansive new collection of itineraries for 2022 and 2023, which will be the largest itinerary launch in Silversea's history, features inspired voyages that have been carefully curated by our destination experts. With the inclusion of roundtrip air and transfers, we are further enriching our all-inclusive offering, which is among the most broad-ranging in the ultra-luxury cruise sector."
Setting sail between March 2022 and May 2023, Silversea's new collection of voyages represents the cruise line's largest-ever itinerary release, with almost 12% more itineraries compared to the previous launch. The new collection includes 315 voyages across all seven continents, calling in 669 destinations in 114 countries, with 61 maiden calls.
Travelers booked on these voyages will be able to reserve their included shore excursions—as well as bespoke 'Silversea Selected' shore excursions (available for an additional charge)—from 180 days before sailing by accessing my.silversea.com. The cruise line's Venetian Society members will enjoy an additional 30 days to make their selection, reserving their chosen experiences from as early as 210 days ahead of sailing.
The inclusion of roundtrip air and transfers on all voyages will enhance the offering for guests. Business class upgrades are also included in selected destinations and on selected voyages, such as the cruise line's World Cruises and Grand Voyages. Special Savings in the form of 'non-use air credit' is offered to travelers who wish to make their own travel arrangements or those traveling from excluded regions. Depending on Silversea's air program flight schedule, guests may also enjoy one or two hotel nights or the use of a dayroom, included in the cruise fare.
In addition to some of the most spacious suites at sea (90% of which offer verandas), guests traveling aboard Silversea's ships enjoy personalized service provided by nearly one crew member for every guest; onboard entertainment; as well as the following inclusions: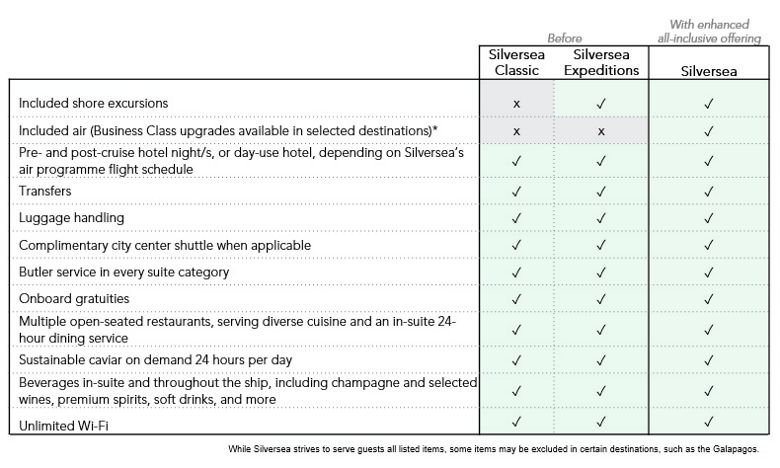 Silversea Expedition Voyages
Moreover, as part of the most comprehensible all-inclusive expedition offering at sea, Silversea's guests will also enjoy the following inclusions on expedition voyages:
• In-country flights on selected itineraries
• Highly-qualified Expedition Team, comprising experts in their field.
• Guided Zodiac, land and sea tours, as well as shore-side activities.
• Enrichment lectures by our Expedition Team
• Complimentary expedition parka in cold water regions
• Complimentary use of wetsuits and snorkeling equipment on selected voyages
• Complimentary backpack and water bottle
As part of an exclusive pre-sale, Silversea's new 2022/2023 itineraries will go on sale to the cruise line's Venetian Society members from December 1. General sales will open on December 10."
How to Book Silversea Cruises
A Silverseas Cruises price is the same booking directly with the cruise line or booking with Roaming Boomers Travel Services.
However, Silversea Cruises is a member of our Virtuoso Voyages program. Therefore, we have complimentary VIP perks to share on many of their voyages.
For more information or to book a luxurious itinerary with Silversea Cruises, please call Roaming Boomers Travel Services at (480) 550-1235 or use our convenient online information request (click here), and we'll reach out to you.
Additional Reading: Best Way to Book an Ocean Cruise
If you enjoyed this article, sign up for our travel newsletter to keep abreast of our best travel tips, on-location reviews, exclusive travel offers, group travel events, and much more.


Roaming Boomers Travel Services is an Independent Affiliate of Cadence, a Virtuoso® member. CST#201120-40